We share our top tips on lighting for your marquee wedding….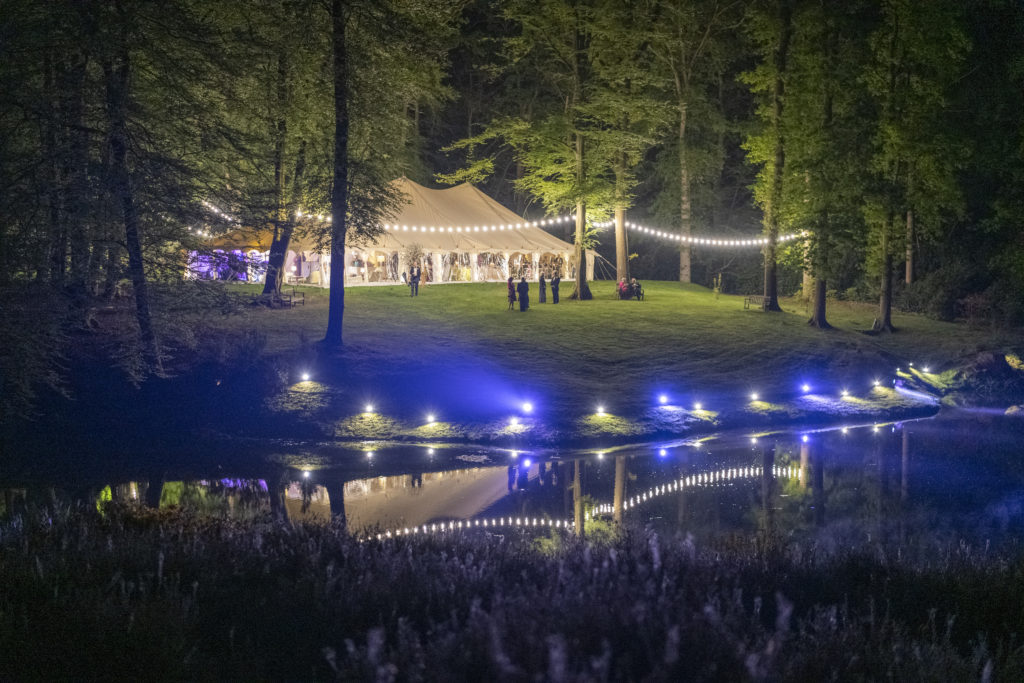 Marquee Lighting
If you're planning a marquee wedding, do not underestimate the importance of getting the lighting right. First things first, you need to consider the overall 'feel' you'd like to achieve and what's going to work with your tables, floral displays etc. Soft and relaxed? Glamorous and dramatic?
All marquees need 'functional' lighting, i.e. the main source of light, as well as 'decorative' lighting to set the mood and add the twinkle. It's also necessary to think about exterior lighting. Lighting the outside of your marquee is important for both practical and decorative reasons. We LOVE it when our couples light up trees and outdoor features, it creates such a dramatic and magical ambience.
Welcome evening guests with a lit pathway using spike lighting, large lanterns or festoon lighting strung on giant crooks. Also remember to light outdoor bars, terrace seating and smoking areas. Floodlights are good for car park areas and we will remind you about all the boring things too… like lighting up the toilets and having bright strip lighting for the catering tent.
Most functional lighting – pendants, chandeliers, uplighters – are installed with dimmer switches so the brightness can be adjusted to suit the time of day.
Below is a guide to the different types of lighting available for marquee weddings:
Chandeliers
Chandeliers are elegant, stylish and glamorous. Choose from brass for a classic feel or crystal/silver/ivory for a more decedent, luxurious look.
Pendant Lights
A traditional, functional lighting option. Effective in lighting up large spaces.
Uplighters
Uplighters are placed at ground level around the marquee, shining light and colour up the fabric of the tent and offering a warm ambience. The colour can change gradually and subtly if required.
Festoon Lighting
Festoon lighting consists of large bulbs strung along cable. They offer a relaxed, informal feel and can be incorporated into other forms of lighting, such as paper lanterns.
Filament Bulb Pendants
Filament bulbs have a retro feel yet are trendy, modern and stylish. Pendants are effective above bar counters and foodie stations.
Pea Lamp Lighting
Basically, a canopy of fairy lights for the roof of the marquee. Creates a twinkly starlight feel.
Paper Lanterns
Chinese paper lanterns are great for adding colour and light to the roof space of marquees. Dot them around for a subtle look or use lots, in various sizes and colours to create more of a feature. Dimmer
Starcloth Linings
White starcloth is soft, pretty and romantic whilst black starcloth over a dance floor adds drama and a 'night sky' feel.
Spotlights
You can use spotlights to light areas such as the bar, or mounted on the roof, the beam can be focussed on each of your dining tables for that dramatic, 'awards night feel'.
Effect Lighting
Think disco balls and lasers for the dance floor. Slow moving points of light covering the roof above the dancefloor gives a mysterious, enticing club-like feel. Relaxed effects such as rippling water wave lights work well for chill-out areas.
Lighting Rigs 
Lighting rigs work well for stage areas, providing bright feature lighting for special live acts.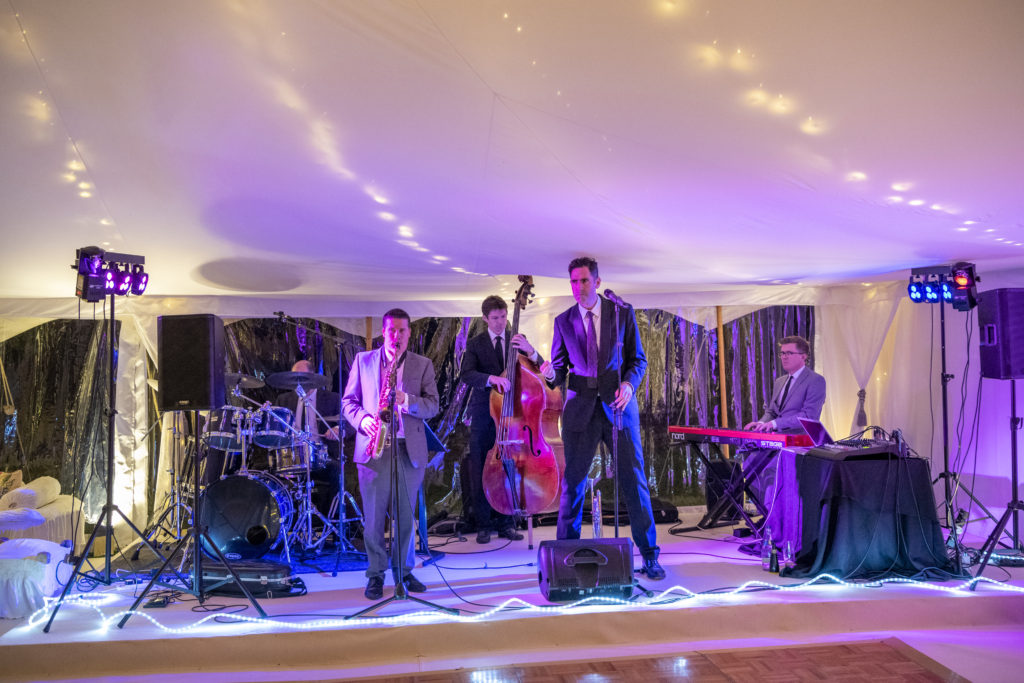 Recommended Lighting Suppliers
We love working with Luminaire Events who have created this spectacular lighting display at The Hyde Estate in our wild gardens and across our lake.
Luminaire Events have executed some incredible luxury events, and lighting is just one area they specialise in.