Wedding Catering Is A Large Part of Your Budget
Wedding catering is likely to be where you spend your largest percentage of your budget so there's lots to consider. We would advise not to cut corners when it comes to catering. Making sure your guests are fed and watered is one thing, but really focussing on the detail when it comes to food and drink is what's going to wow your guests and keep them talking about your wedding for years to come.
Where To Start With Your Wedding Catering
At The Hyde Estate, we work with a number of preferred caterers but also open to outside caterers. Consider the catering options available as our catering partners have all worked at The Hyde Estate on a regular basis so know the space well and how it works.
Marquee Wedding Catering
Do you want a formal feel or something more relaxed? Are you considering a specific theme/cuisine? Perhaps there's a dish or cuisine that's an important part of your relationship, such as countries you've travelled, or places you've lived?
In your negotiations with caterers, not only will you need to consider menu options, but you'll have to factor in costs such as equipment hire, staff, travel expenses, insurance etc.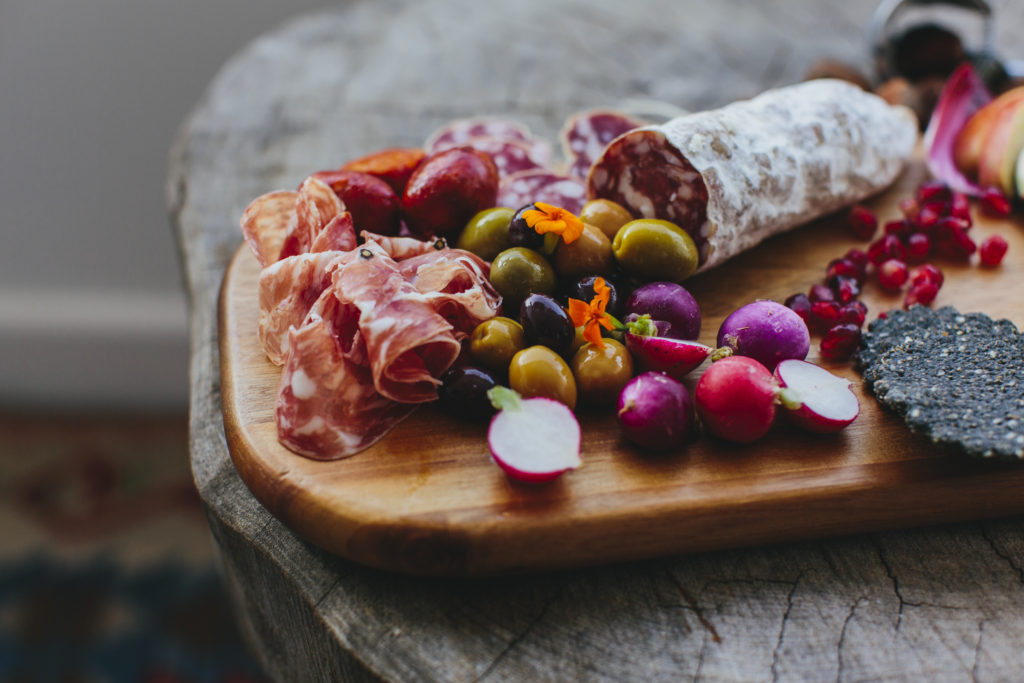 What's On The Menu
Food and drink proceedings kick off with reception drinks and canapes… It's time to celebrate! Traditionally Champagne or Prosecco is served to welcome your guests to the reception but perhaps you'd consider an alternative such as Gin cocktail for a summer wedding? Or a different signature cocktail that you could create?
Your caterer will advise how many canapes to order per person. We suggest going heavy with canapes if your budget allows! Your guests may have travelled for a long time and it could have been a long time since their last meal. A creative selection of delicious canapes and beautiful, imaginative ways to serve them will keep your guests very happy.
If you want a novel idea for canapes/starters you could think about a DIY Bruschetta bar. It's a bit of fun for your guests to get creative with toppings. Big bowls of fresh chopped tomatoes, pesto, tapenade, basil plants, giant pepper grinders. Delicious, and it can be styled beautifully too with chalkboards and interesting tableware.
To continue the DIY/interactive concept, how about a 'pimp your drink' bar? A selection of additions such as Chambord, Aperol, fresh fruit and herbs such as sprigs of rosemary. Ideas like this will keep your guests busy, while you're off doing photos etc, before the sit-down wedding breakfast.
So, the wedding breakfast. The main event. How many courses will you go for? You could go for plated throughout all the courses, or sharing starters or bistro boards… or grazing stations. There are so many options these days! We believe it's really important to have what you (as a couple) want. It's impossible to accommodate everyone's requirements so we suggest creating a menu you love which can be adjusted for individuals where necessary. I also look for a theme, no matter how loose, in terms of food. Do you have fond memories of travelling to Spain on holiday and eating wonderful plates of tapas? Or are you having an autumn wedding and looking to conjure up the best of British comfort food?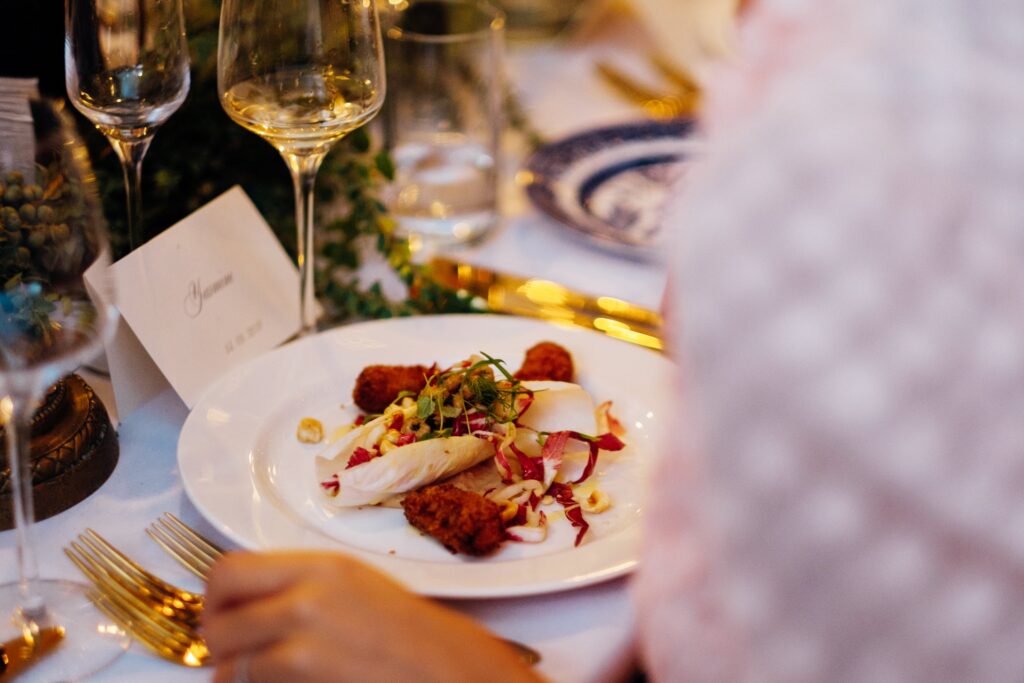 Wedding Catering Ideas
At the end of the main course you may be considering the first speech so you may wish to keep guests seated with a plated dessert.
Come the evening, when much drink has been consumed and your guests have worked up an appetite on the dance floor, it's time for evening food. You could go for street food, wood fired pizza for example or how about a heaving grazing table? Local speciality cheeses, homemade chutneys and slaws, salty cured meats, artisan breads…
To Cake Or Not To Cake?
By this point your cake will be cut. Think about serving it as part of the buffet with big bowls of berries and cream.
To conclude, think carefully about the budget you have available for catering and do your research to find the best supplier in your price range. Make sure they're enthusiastic about your event and on the ball with communication. Make sure you confirm everything with a written contract and ensure there are no hidden extras.
We invite you to discover this hidden gem and its wonders, and learn more about how The Wild Garden can be the perfect, exclusive venue for your wedding or special event. Susie, who manages weddings at The Hyde Estate, is waiting to discuss your ideas, so please don't hesitate to get in touch here.